A fun map of Seattle given to us from one of our clients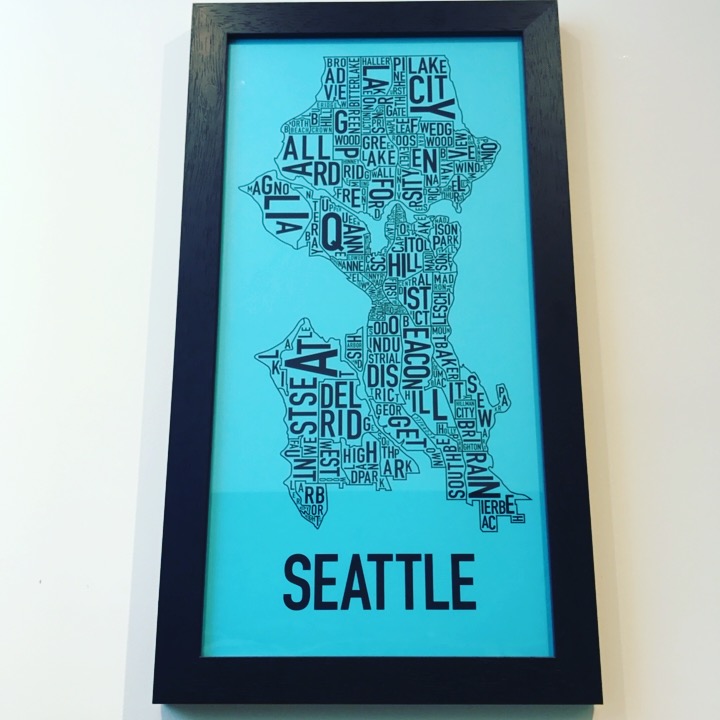 Seattle is a seaport city on the west coast of the United States. It is the seat of King County, Washington. With an estimated 704,352 residents as of 2016. Seattle is the largest city in both the state of Washington and the Pacific Northwest region of North America. In July 2013, it was the fastest-growing major city in the United States and remained in the Top 5 in May 2015 with an annual growth rate of 2.1%. In July 2016, Seattle was again the fastest-growing major U.S. city, with a 3.1% annual growth rate.
Seattle has some amazing music history…. We gave you Macklemore!
Seattle has a noteworthy musical history. From 1918 to 1951, nearly two dozen jazz nightclubs existed along Jackson Street, from the current Chinatown/International District to the Central District. The jazz scene developed the early careers of Ray Charles, Quincy Jones, Ernestine Anderson, and others. Seattle is also the birthplace of rock musician Jimi Hendrix, as well as the bands Nirvana, Pearl Jam, Soundgarden, Alice in Chains, Foo Fighters and the alternative rock movement grunge.
Seattle Isn't Nearly As Rainy As They Tell You… Except When It Is!
Some people will tell you it rains like crazy in Seattle. Others will tell you that the stories of the rain are hyped and New York City gets more rain. The reality is that both are true. It rains a lot, but it's more of a steady drizzle, which is why places like NYC technically get more inches. But, how do you think our grass, trees and forests are so green.  Clean air is worth something.   In conclusion, you will see rain.
But It Is Overcast A Lot
Even if it's not quite as rainy as you expected, there is no mistaking that there are far more gray skies than not. Some people love it. Other people love to complain. What side of that puddle you land on is up to you.  If you don't like it… I just happen to know of a good real estate agent that can help you sell! 🙂
The Sunshine Is Basically Like Pure Gold
When the sun comes out, there isn't a single person to be found indoors in Seattle. Everyone finds a reason to get out and enjoy the sunshine while they've got it and soak up every last ounce of vitamin D.  Rather you are at a park, on a boat or just walking around the city shopping. Seattleites are out and about having a good time.
You're Welcome For Starbucks, Universe
Every time you order up a dopio or a triple grande, half-caf five-pump hazelnut skinny latte with sugar-free syrup, make sure to tip your hat to Seattle where all that ordering madness started. And then tip your barista for getting it right.
When looking to buy or sell real estate in Seattle… Work with the Best!
David and Jamie De Maria of De Maria Partners.
CONTACT US!