8 Laundry Room Updates to Fit Any Budget
Hoping to transform your tired laundry room into a sparkling clean, efficiently working space, but without the major costs of a full remodel? By not changing the layout or adding square feet, you can bring costs down while still making meaningful changes to your space. Use this guide to help you decide what to prioritize and what to put on the back burner, and give your laundry room an update that works with your space — whether your budget is $100 or $10,000.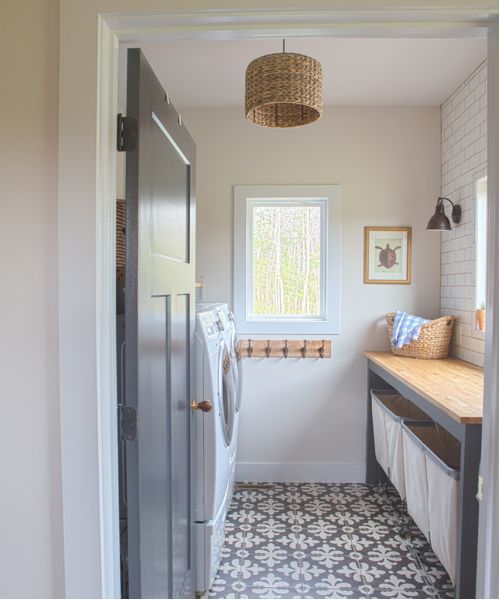 Laundry 1: Sharon Barrett Interiors, original photo on Houzz
If your budget is about $100: Clean, declutter and upgrade laundry baskets that have seen better days. It's worth spending a little more for hampers that can stand up to heavy use.  Also think about which features would be most helpful to have, such as hampers on wheels, triple-sorter bins or stackable baskets that can tuck out of the way when you're not using them.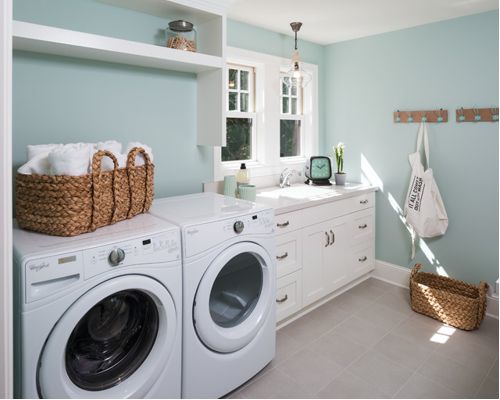 Laundry 2: David Charlez Designs, original photo on Houzz
If your budget is about $300: Clean up, get hampers and then give the walls a fresh coat of paint. A cheerful color can make your laundry room feel brand-new without breaking the budget — especially if you're willing to DIY.
If your budget is about $500: Get hampers, fresh paint and then a soft new rug. You'll appreciate the dose of color as much as the softness underfoot. If moisture is a concern (for example, if your laundry room is in the basement), you may want to choose a sturdy indoor-outdoor rug.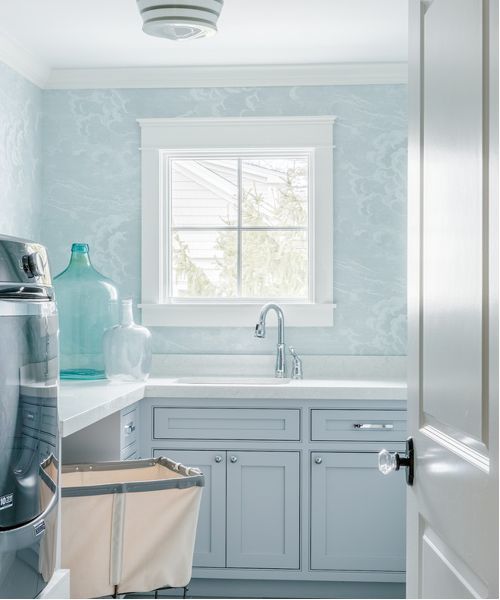 Laundry 3: ACQUIRE, original photo on Houzz
If your budget is about $700: Get hampers, fresh paint and a new rug, and then swap out the lighting.
Ample lighting is important when you're trying to check laundry for stains and read labels, so pay attention to the recommended wattage of any light fixture you are considering — anything less than 75 watts may not shed enough light (especially if it's the sole light source in the room).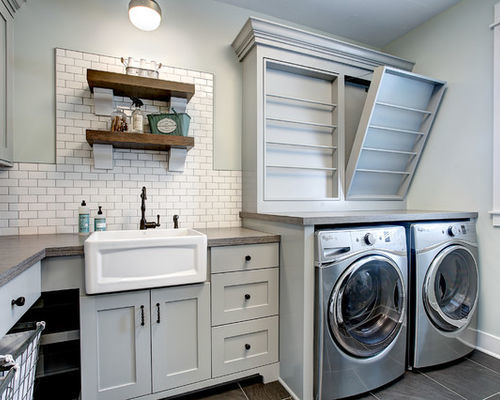 Laundry 4: CVI Design – Carly Visser, original photo on Houzz
If your budget is about $1,200: Tackle all the above, and then treat your space to some bonus storage and extras, like an ironing station, a drying rack or open shelves. If your laundry room is small, look for space-saving designs like folding drying racks, retractable clotheslines and wall-mounted ironing boards.
If your budget is about $3,500: What's next? New appliances! A new washer and dryer can work more efficiently than older models, operate more quietly and get your clothes cleaner.
If you're going from top-loading to front-loading machines, consider adding a countertop above to hold supplies and act as a surface for folding. Not in the market for a new set? Give your old machines a thorough cleaning to keep them running well (and smelling fresh).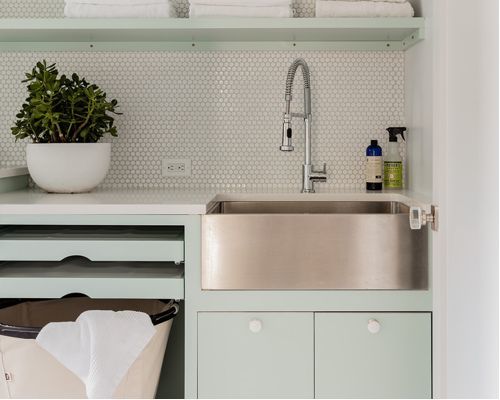 Laundry 5: color THEORY Boston, original photo on Houzz
If your budget is about $5,000: If you have more room in the budget, think about replacing the laundry room sink and faucet. If you're hoping to avoid additional installation costs, choose a new model that is the same size as the old one. If you don't already have a sink in the laundry room, adding one will require more extensive help from a plumber, and costs will be significantly more.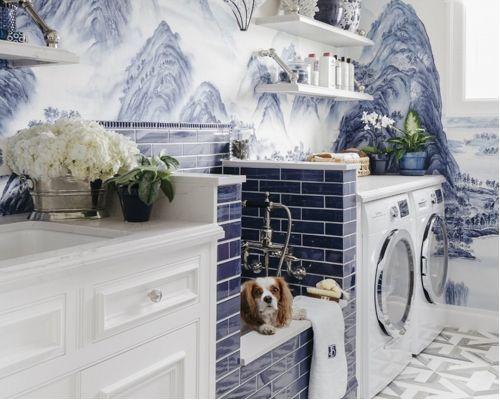 Related: Get a Sturdy Utility Sink for the Laundry Room
Laundry 6: Dina Bandman Interiors, original photo on Houzz
If your budget is about $10,000: So you have the hampers, paint, rug, lighting, storage, appliances and sink. If you still have room in the budget, think about tackling a bigger project like installing a new tile floor or a pet-washing station. Your furry friend may not thank you but sure will look cute sitting in that tub.
When looking to buy or sell real estate in Seattle… Work with the Best!
David and Jamie De Maria of De Maria Partners.
CONTACT US!
*Article originally posted in Houzz.com and Living by Laura Gaskill